Club History
This is a brief history of our club, but the early days are a bit hazy as much of the archives were lost. If you can fill any of the gaps please get in touch and we will try and add any info/ photos you may have.
Our thanks to David Woolerton, one of our members, who has provided this valuable information after a lot of research.
We can trace Bowls activity back to 1730 but that was way before the club and was probably Crown Green.
Throsby wrote that in 1730 Bosworth was famous as a resort for neighbouring gentry. Lord Wentworth, Sir Wolstan Dixie, the Boothbys of Tooley, Jennenses of Gopsall, Mundys of Osbaston and many other social members resorted, twice a week, at the renowned Simon Oakdens' bowling green for pleasure and amusement. The neighbourhood of Bosworth was reckoned the genteelest in the County, several coaches and six were kept within a few miles of each other.
The club plays its' bowls in Rectory Lane on what was Glebe land owned by the church. It is situated between what was the cattle market and the triangle of land that is now the Parish field. Sometime in the early 1900's a strip of grass was put down, wide enough for three rinks of bowls.
Harry Trivett remembered playing on it as a lad in 1921, and his father before him.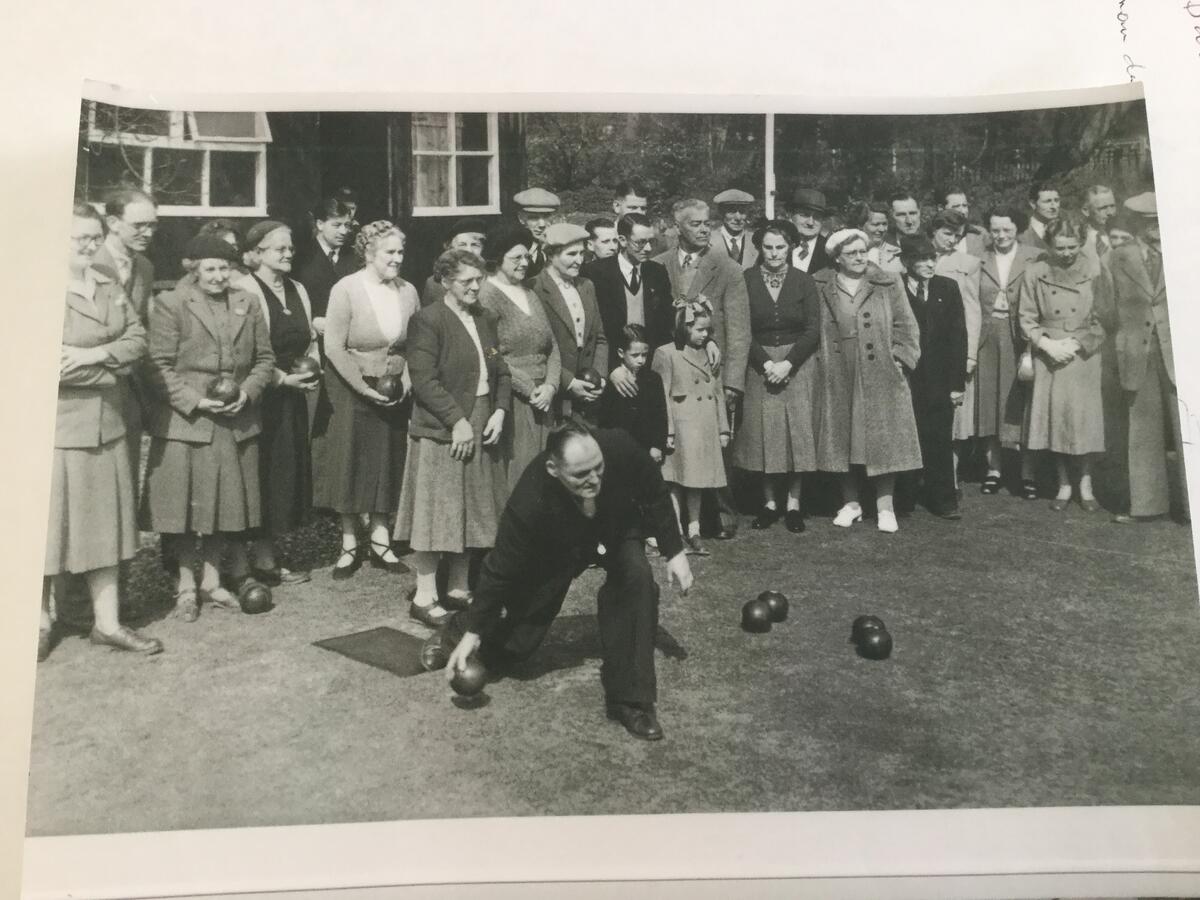 This picture shows the then President, Sidney Folwell bowling the first wood of the season in 1953,. This was a momentous year as it was the start of the Ladies Section!
In May 1958 the bowling green was purchased from the Church Commissioners, having been rented for possibly 50 years.
The original three rink layout remained until 1976 and had a reputation as a "cabbage patch". In 1976 the old green was dug up and replaced with the existing five rink green which re- opened in 1979. The Bosworth green had a poor reputation for many years but in recent years such a transformation has taken place that in the previous two seasons, up to 2014, the mens' County Finals have been played here.
in 2014 the Mens & Ladies sections joined together to establish a unified Market Bosworth Bowling Club
The Club continues to develop and grow and new members are always welcome.